February 24, 2013
Irony
If each person who saw this gave a pound
We could double the film's box office
February 24, 2013
"The three great things are: GOOD HEALTH; WORK; and a PHILOSOPHY OF LIFE. I may add, nay, must add, a fourth—SINCERITY. Without this, the other three are without avail; with it you may cleave to greatness and sit among the giants."
— Jack London, Getting Into Print, 1903
February 20, 2013
(Source: googlepoet)
February 3, 2013
January 28, 2013
Blake Fall-Conroy, "Minimum Wage Machine," 2008-2010

This machine allows anyone to work for minimum wage for as long as they like.  Turning the crank on the side releases one penny every 4.97 seconds, for a total of $7.25 per hour.  This corresponds to minimum wage for a person in New York.  

This piece is brilliant on multiple levels, particularly as social commentary.  Without a doubt, most people who started operating the machine for fun would quickly grow disheartened and stop when realizing just how little they're earning by turning this mindless crank.  A person would then conceivably realize that this is what nearly two million people in the United States do every day…at much harder jobs than turning a crank.  This turns the piece into a simple, yet effective argument for raising the minimum wage.  
January 26, 2013
Urban Geodes.

Urban Geodes by A Common Name:
January 22, 2013
The Past's Future
Go into a Waterstone's (if you can find one, amirite) and you will always find science fiction and fantasy side-by-side - or even shelf-mates, as the eponymous "Science Fiction & Fantasy." It's tempting to co-shelve them in the mind, too, since they're both other world narratives, they both pain colourful new stages to show how human nature stays the same. And that's fine, but rules of scenecraft can change. For both SF and Fantasy, genre rules apply (courtly romances can't be too rosy, elves should be used with discretion, 'absolute' good and evil don't cut it). For SF, especially hard SF, there's another rule, which I'll call the rule of the extrapolated present.
NB: It probably already has a name.
The rule of EP is basically, that for SF to be 'of its time' it has to have a future grounded, however distantly, in the technological (or perhaps cultural) setting of the author's present. This is how SF performs its secondary function of being a thought experiment, what Ray Bradbury called
"sociological studies of the future, things that the writer believes are going to happen by putting two and two together."
So it's an author's responsibility to make sure that the 'twos' in question are relevant. This probably seems obvious, but the interesting implication lies in the way that these two rules - the progress of technology, and the progress of the genre - interact when they're running at different speeds.
And be in no doubt that they are.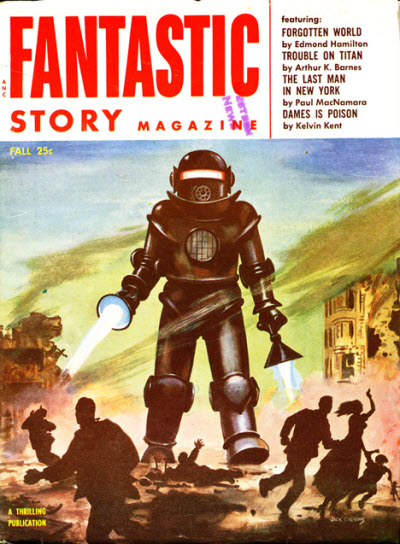 Fantastic Story, Autumn 1954.
In a 2009 (is that really four years ago?) Guardian piece, David Barnett summed up the predicaments of an SF landscape that has to hold both Margaret Atwood social commentary and big shiny lasers, thus:
Perhaps the problem is that our present has caught up with the future presented to us by the pioneers of science fiction.
The classics of SF have had their prophecies fulfilled or made obselete, we have HAL (Siri, just as troublesome), Cyberspace (err, cyberspace), and plenty besides. Worse, there are those social innovations that just make old SF look small-minded. Why does George Jetson always do the driving (flying)? Why does Jane Jetson press the button to make food, in deference to her gender role?
All these works are time capsules that freeze the dreams of their context. They try to hold the debates of their present (even The Jetsons is about a family man trying to make a white-collar living). 
And that's what we should be emulating when we write. In Understanding Comics, Scott McCloud detours to talk about the creative process. If I could find my copy I'd be more accurate, but his essential argument is:
"When we start to try and understand an art, we begin by copying the surface detail of the art. So a lover of comics starts by tracing his favourite drawing of the Hulk, over and over again until he can reproduce that image. As time goes on, they unpeel the layers of that craft, realising that beneath image is anatomy, and beneath the Hulk's actions is plot. The diligent craft will delve into their favourite works until they understand their souls, and that's what they'll learn to learn from."
We are all, at times, guilty of not going far enough with this. In Capitopolis, I've tried to take on some of my favourite elements of Dune: greed, feudal power, loss of innocence. But earlier versions have characters that are just a little too like Baron Harkonen, a system of prescience that feels a little too magical and melange-like. In short, it read like it could have been written in 1950; it was a past's future. Compare that to Hannu Rajaniemi - The Quantum Thief is more 2010 than 2001, making full use of both actual technology (quantum stuff) and social technology (gevulot - basically privacy settings gone mad) to shine a light on the future. And that's valuable as an exercise in due diligence to the SF form, but more importantly it lends the story a whole lot more dramatic weight; tantalising visions of the almost understandable both sweeten a traditional narrative, and up the contrast for the world in which we live, today.
If we can understand that our nourishment as SF writers lies in harnessing both the storytelling skill of our classics, and the observational skill of Bradbury-sociologist, great science fiction is out there to be written.
If not, we're basically writing Space Fantasy. We could even have a snappy acronym for i-
Oh.
January 22, 2013
TumblrFiction: Unprotected by Simon Rich
[Erika's note: Originally published in the New Yorker, Wyatt Cenac's reading of this story on Selected Shorts made me tear up.]

I born in factory. They put me in wrapper. They seal me in box. Three of us in box.

In early days, they move us around. From factory to warehouse. From warehouse to…
Read this. Can you see what it is yet?
January 18, 2013
alt lit? Never heard of it.
January 16, 2013
"I walk towards to Ship Creators, to the people that the world knows little about. Step to them, who are building ships on a daily basis with their expertise, power, energy and who dream to make something big, bigger than their life, bigger than their identity, bigger than their credits without much expectation. "
I got offered a job in a wine merchants...

I need to mull it over…

Wenlock the warrior

At the mascot games
fun and sweat win every time.
Dignity is last.

Easy Formula

Fetishization of the Past + Dread of the Present + Fear of the Future= Wrong, wrong wrong

Dwindling afternoon by the Tanjong Pagar...

"

In TED world, problems of aid and development are no longer seen as problems of weak and corrupt institutions; they are recast as problems of...

"

Berlin Hack'n'tell 13: Quil: A Processing wrapper in Clojure

Sorry for the slightly gestört presentation.

Here are some links to the projects...